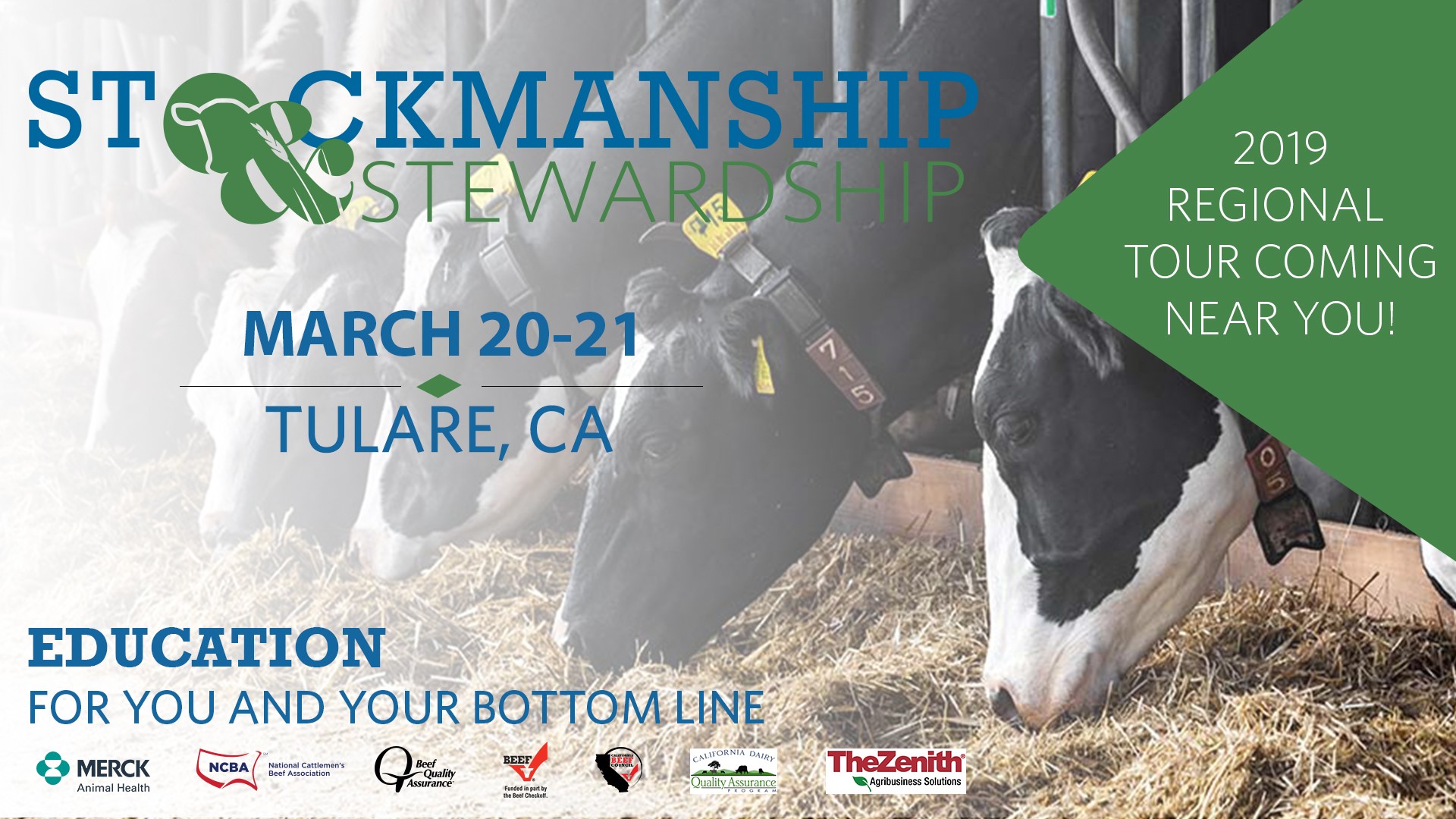 Join us in Tulare, CA for learning and demonstrations that are sure to improve your dairy operation. With live cow handling demonstrations, hands-on training, and the newest information you are sure to find value by attending this Stockmanship and Stewardship event.
UC Davis Veterinary Medicine Teaching and Research Center, Tulare, CA

The event will be held at the UC Davis Veterinary Medicine Teaching and Research Center (VMTRC) in Tulare, CA.
The principal instructional focus of the VMTRC is large-scale dairy production medicine in a semiarid climate. The space consists of a classroom, conference room, computer room with access to UCD electronic library resources, student housing, a clinical unit (including ambulatory vehicles), and faculty and administrative offices. Diagnostic and research laboratories are available with capabilities in pathology, microbiology, milk quality and mastitis, clinical pathology, clinical chemistry, molecular biology, and parasitology support teaching and research programs. There are 18 laboratory rooms used by faculty for conducting research and clinical trials on animals, in addition to clinical exam rooms, surgery rooms, and research barns available to multiple investigators when needed for performing clinical animal health research. A newer small auditorium with lecture hall seating is used for teaching, seminars, and demonstrations with video conferencing capabilities for collaborative educational programs, lectures, meetings, and events with central Davis campus and external institutions. A necropsy facility is shared with the Tulare branch of the California Animal Health and Food Safety (CAHFS) Laboratory System and is also used for instruction.

The VMTRC is located in California's San Joaquin Valley, between Fresno and Bakersfield. The facility is just off Highway 99 approximately 8 miles south of Tulare and 250 miles south of the Davis campus. When coming from the north, take the Avenue 184 exit and turn right (east) at the stop sign. Turn left (north) onto Road 112 (which is approximately 200 yards from Highway 99). If you are traveling from the south take the avenue 184 exit; once off the freeway, turn right at the stop sign, then turn left almost immediately, at the first street you come to, which is road 112 (it is very close to the off ramp). Proceed to the VMTRC, which is a half-mile from the junction of Road 112 and Avenue 184 (see map above).